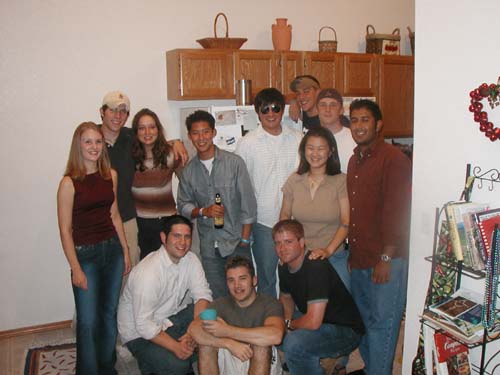 Well I don't think I've ever added 7 pages worth of pictures at once ever before, but here we go, starting with the oldest.
On Wednesday June 26th and 27th, a small crew of people went to Country USA in Oshkosh. I didn't go, but got all the pictures. I don't know which one is cooler, a tail-gater's dream or country boys eating turkey legs. Click here to see all the pictures from Country USA.
Well the very next day on the 28th we had to have Bill's pre birthday party. I'd say about 50 people showed up (so about half the college age population of Neenah) and played plenty of speed quarters. One person had at least a few too many pink flamingo bongs. And the night just wouldn't be complete without Neidens jumping into a bush and Bill getting an MIP one day before his 21st b-day, that is just shitty (but kind of his own damn fault). Click here to see all the pictures from the party. And the very next day ......
We're at it again. This time it's the eve of Bill's b-day and we did some Saturday night bar hopping. Bill made it to 23 shots for the evening, and still had enough energy to dance home; that, my friend, is impressive. Highlight of the night can be found where Bill got hooked up with a *cough* real hot chick (Timon, Bill says 'just wait.... just wait'). Click here to see all the pictures from the bars.
The following Tuesday July 2nd we headed out to a Timber Rattlers AAA baseball game for $1 beer night. Of course we had to tail-gate prior to the game. But I wonder if baseball players get a tear in their eye from us throwing a football around while tailgating a baseball game. While at the game there was way way too much beer spilled. Best part of the night was the huge brawl on the field. I have a video clip of it, but I need to convert it to a smaller format. Oh, no, actually the best part of the night was Timon and Kalpesh slamming the port-o-potty with Jill inside. I have a video of that too. I'll get those up real soon b/c it is just too damn funny. Afterwards, some people went to a bar (on a Tuesday, mind you). Click here to see all the pictures from the game. And the very next day . . . .
We trucked on down to Summerfest. A few people had a couple of drinks on the way down (not the driver of course). From there a small crew of us played "i never" at Julie's place and found out more than we ever need to know about each other (some people there like to do stuff with parents in the room). From there it gets a little fuzzy but there was plenty of licking, couch tipping, and water pouring. The next morning we went to Cracker Barrel where Max got his glass of "OOOOOO J". Click here to see all the pictures from the game. And later that day . . . .
Was the 4th of July, where we played speed quarters and then went bar hopping and saw some fireworks. But I don't have enough good pictures from this day to post so we'll move on to the next day where . . .
Went to Summerfest again. This time to celebrate John's 21st b-day (what better excuse to drink?). The bus ride to the fest was probably the coolest bus ride I've ever been on thanks to a drunk, obnoxious guy and a couple of girls. We saw Lit, Ore, and Rusted Root at summerfest and left pretty quick so we could make it to the bars. I'm getting pretty tired of typing now so I'll just say John had fun with a zebra, we all got really messed up and walked 20 blocks home, and we had a beer sampler the next day at the Water Street Brewery. Click here to see all the pictures from the night. And later that day . . . .
We were in Madison for our 5th consecutive day of getting plastered. This was John's b-day night so he had to count off his shots. And count off we did. He ended up hitting 29 shots for the night. We thank the 32oz. steak to that. Damn fine job John. We started at the Essen Haus for dinner and drink 6 boots of German beer. We then went to State Street to really start the drinking. I officially got completely wasted at the first bar I was at off of two drinks of basically pure liquor (yea, I'm a dumb-ass). From there I hear we hit a couple of other bars danced with a bachelorette party. The rest of the night you will have to consult the pictures to get the detail b/c I don't remember them. I do know that Bill passed out on State Street only to wake up at 6:30 in the morning still there. Yea, I know it sounds shitty that we left him but here's the story: First off we're all drunk out of our minds and then at the end of the night (about the time we lost him I think), the whole group split up and went to two different houses to crash. The people that were sober enough to realize who was with them or which direction was up just assumed he was with the other group. At least they did until they got the voice mail of, "hey guys, this is Bill. . . I'm somewhere, I don't know where, but I see a Walgreens . . . and a McDonald's . . . . please come find me!!" Click here to see all the pictures from the night.
Well I think the moral of this story is we all had a damn good time, we saw a whole shit-load of this and we all enjoyed comfortable sleeping quarters.
There's so many damn picture pages now that I just went ahead and made a Wisconsin Pictures Homepage. You can get to any of the Wisconsin picture pages from there. And thanks to John Acord for all the pictures from his digital camera.